I've read a lot of books in the last couple of years. These helped me to understand more about the Christian church. I believe that each of these would be valuable to you, for varying reasons. I've included the Amazon blurb for each, as well as a link to the Amazon listing for the book.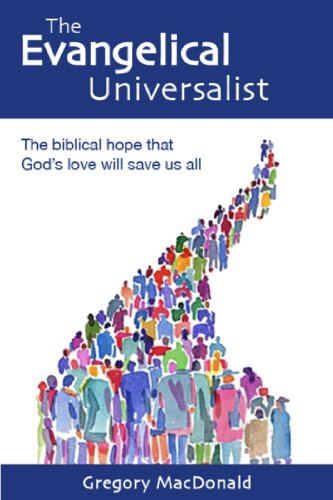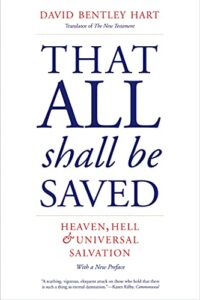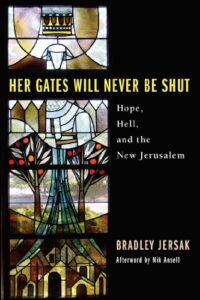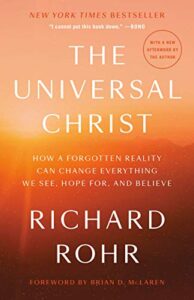 Reviews
---
"The Evangelical Universalist: The biblical hope that God's love will save us all" by Gregory MacDonald
This was another good book about universalism. It doesn't stand out to me as much as Jersak's book, but it was still useful.
Amazon's description: Can an orthodox Christian, committed to the historic faith of the Church and the authority of the Bible, be a universalist? Is it possible to believe that salvation is found only by grace, through faith in Christ, and yet to maintain that in the end all people will be saved? Can one believe passionately in mission if one does not think that anyone will be lost forever? Could universalism be consistent with the teachings of the Bible? In The Evangelical Universalist the author argues that the answer is 'yes!' to all of these questions. Weaving together philosophical, theological, and biblical considerations, he seeks to show that being a committed universalist is consistent with the central teachings of the biblical texts and of historic Christian theology.
---
"That All Shall Be Saved: Heaven, Hell, and Universal Salvation" by David Bentley Hart
I really wanted to get my head around the doctrine of universalism, the idea that all humans will eventually be saved, even if they reject God in this earthly temporal life. This book looked like it would serve as a first reading.
I quickly found that I have an utter love/hate relationship with this book.
On the one hand, it was supremely useful. I found myself constantly thinking, "I guess I always knew that; I just didn't have words for it" or "Oh, THAT makes perfect sense, and resolves all the internal contradictions I never was really willing to acknowledge." He often includes the original Greek versions of verses that he quotes, along with a translation, which should benefit anyone who knows a little Greek. And in my view, he utterly nails down the issue with a resoundingly complete package of conclusions and assertions that are entirely self-consistent and convincing. So if you're looking for an incredibly thorough treatise on the issue of "infernalism" – the doctrine of hell – this is the book for you.
But be prepared to suffer through the author's style. He's brash, harsh, cocky at turns, and unwilling to brook those he views as idiots, castigating them in the strongest possible terms. As perhaps the hardest thing of all for me, he writes in the "sesquipedalian" (using overly complicated words) style of a Doctorate-level college professor: words like sanguinary, ameliorative, banality, hypostasis, ontologically, dialectical, recalitrant, surd, equivocacy, or sanguinary liberally flood this book… along with countless Latin phrases, often left undefined. If I were a graduate student of religion or philosophy, this style might suit me. But I'd much rather read a book in more everyday English, even if it required a few extra words to say the same thing. It would be infinitely more approachable, and that's a true shame to me, because I wish I could recommend this book to everyone. However, I cannot, because I know a lot of people would spend more time in the dictionary than these pages. (The Kindle, at least, makes that fairly easy, by just long-pressing a word to pop up its definition… which works fine except for the Latin phrases.)
So it's up to you. If you can tolerate the attitude and professorial language, I highly recommend this book for anyone wishing to understand universalism.
Amazon's description: A stunning reexamination of one of the essential tenets of Christian belief from one of the most provocative and admired writers on religion today.
"A scathing, vigorous, eloquent attack on those who hold that that there is such a thing as eternal damnation."—Karen Kilby, Commonweal
The great fourth-century church father Basil of Caesarea once observed that, in his time, most Christians believed that hell was not everlasting, and that all would eventually attain salvation. But today, this view is no longer prevalent within Christian communities.
In this momentous book, David Bentley Hart makes the case that nearly two millennia of dogmatic tradition have misled readers on the crucial matter of universal salvation. On the basis of the earliest Christian writings, theological tradition, scripture, and logic, Hart argues that if God is the good creator of all, he is the savior of all, without fail. And if he is not the savior of all, the Kingdom is only a dream, and creation something considerably worse than a nightmare. But it is not so. There is no such thing as eternal damnation; all will be saved. With great rhetorical power, wit, and emotional range, Hart offers a new perspective on one of Christianity's most important themes.
---
"Her Gates Will Never Be Shut: Hope, Hell, and the New Jerusalem" by Bradley Jersak
I really enjoyed this book, much more than "All That Shall Be Saved." It was much more approachable, less excessively erudite, but just as solid a presentation about the topic of universalism and hell. It basically put the final nail in the coffin of eternal damnation for me: although "All That Shall Be Saved" was perhaps more scathing in its treatment of opposing views, this book was essentially the opposite, a gentle appeal based on reasonable discussion, and gave me the discussion tools I will need to talk about this with an open hand instead of demanding that others agree.
Basically, it's a book based on hope and love.
I really loved this quote in his addendum: "If your only reason for becoming a Christian is to avoid hell, I wonder if you have ever encountered the love of our precious Savior. Have you met him?" That perfectly wraps up my feeling about this whole topic: love is so much stronger than fear, and mercy is stronger than judgement.
Amazon's description: Everlasting hell and divine judgment, a lake of fire and brimstone–these mainstays of evangelical tradition have come under fire once again in recent decades. Would the God of love revealed by Jesus really consign the vast majority of humankind to a destiny of eternal, conscious torment? Is divine mercy bound by the demands of justice? How can anyone presume to know who is saved from the flames and who is not?
Reacting to presumptions in like manner, others write off the fiery images of final judgment altogether. If there is a God who loves us, then surely all are welcome into the heavenly kingdom, regardless of their beliefs or behaviors in this life. Yet, given the sheer volume of threat rhetoric in the Scriptures and the wickedness manifest in human history, the pop-universalism of our day sounds more like denial than hope. Mercy triumphs over judgment; it does not skirt it.
Her Gates Will Never Be Shut endeavors to reconsider what the Bible and the Church have actually said about hell and hope, noting a breadth of real possibilities that undermines every presumption. The polyphony of perspectives on hell and hope offered by the prophets, apostles, and Jesus humble our obsessive need to harmonize every text into a neat theological system. But they open the door to the eternal hope found in Revelation 21-22: the City whose gates will never be shut; where the Spirit and Bride perpetually invite the thirsty who are outside the city to "Come, drink of the waters of life."
---
"The Universal Christ: How a Forgotten Reality Can Change Everything We See, Hope For, and Believe" by Richard Rohr
I really have mixed feelings about this book. There are lots of good insights about the Scriptures about Christ and salvation, and Rohr makes it apparent how the evangelical church has taken some convenient liberties with the Bible regarding salvation, how a transactional gospel has taken hold of that wing of Christianity. I also appreciate how he identifies the risks of a dualistic view of the Kingdom, compared to the mystery that it really ought to be.
What bothers me about his overall approach, I suppose, is that it seems to minimize a number of passages in the Bible that do call for some suitable dualism. And there is a potentially dangerous blurring of the boundaries between religions, and I am not convinced that his insistence in the universality of Christ can dispense with the fairly straightforward language about the cross, not just Christ, as the essence of our salvation. To some extent I feel like he makes a case for a viewpoint without addressing its likely counterpoints. I'm too much of a scientist to ignore the "test your hypothesis against contrary data" method of analysis.
But with that said, I think it's an interesting book for the challenges it presents to a black-and-white view of doctrine and salvation that is typical to the evangelical church. If nothing else, it will open your eyes to a variety of ways of understanding Christ.
Amazon's description: In his decades as a globally recognized teacher, Richard Rohr has helped millions realize what is at stake in matters of faith and spirituality. Yet Rohr has never written on the most perennially talked about topic in Christianity: Jesus. Most know who Jesus was, but who was Christ? Is the word simply Jesus's last name? Too often, Rohr writes, our understandings have been limited by culture, religious debate, and the human tendency to put ourselves at the center.
Drawing on scripture, history, and spiritual practice, Rohr articulates a transformative view of Jesus Christ as a portrait of God's constant, unfolding work in the world. "God loves things by becoming them," he writes, and Jesus's life was meant to declare that humanity has never been separate from God—except by its own negative choice. When we recover this fundamental truth, faith becomes less about proving Jesus was God, and more about learning to recognize the Creator's presence all around us, and in everyone we meet.
Thought-provoking, practical, and full of deep hope and vision, The Universal Christ is a landmark book from one of our most beloved spiritual writers, and an invitation to contemplate how God liberates and loves all that is.
---
I'll update this list as my reading continues.
Disclaimer: We make a tiny bit of money – so far, just $4 – on these Amazon affiliate links. You can help support this blog simply by purchasing anything from Amazon within 24 hours of following one of these links.