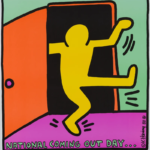 The first "National Coming Out Day" was observed in 1988, to support people finally expressing their true identity to those in their circle of relationships.
Today, I am coming out myself – not as LGBTQ, but as an ally, one who affirms such identities and relationships as wholesome and acceptable to me, and I fully believe, also to the Lord.
I'm fully aware that this will surprise, shock, and dismay quite a few people in my life, but I take this step in complete confidence and after many months of prayerful consideration and Bible study and deep thought and research. I feel completely convicted that the Lord specifically required this step of me, despite it going against much of my inherited religious background. Accordingly, it has not been made easily or flippantly.
In keeping with the theme of being true to one's identity, one of my core identities is that I don't do things halfway or carelessly. So I've spent many weeks putting together a detailed document that very deliberately and carefully explains my understanding, my reasoning, even the core points of my relationship with the Lord and how this decision integrates with that spirituality. If you wish to understand my process in this matter, I invite you to read it here. You can also find it in podcast form on my Anchor.fm podcast. It took several episodes to go through the entire thing, so here's Part 1, Part 2, Part 3 and Part 4.
(Consider subscribing to the podcast. Aside from this series, I have been posting new episodes three or four times a month.)
If I've learned anything in the last few years, it's that serious religious or sociopolitical discussions on Facebook or Twitter rarely make any headway in understanding. So I choose not to publicly discuss this any further on social media, but I'd love to sit down over coffee (or Zoom) and discuss it with you face-to-face. I only ask that you read my paper first.